Welcome to GraceKidz!

We are so excited that you have decided to join us in our journey of faith through God's Word!  If you are not yet a part of our innovative Sunday morning classes, we invite you to consider making us a part of your week!

Here at Grace, we consider children to be our hope for the future.  They are the next generation of leaders, disciples, and carriers of the Truth.  This is why we put tremendous importance on guiding them through the classic stories of the Old Testament, instilling in them the truth and relevance of the New Testament, and leading them towards a personal relationship with Jesus Christ!

Our teachers teach because they value children and they desire to impart God's wisdom to them.  They are trained, willing, and eager to encourage, instruct, and assist parents in guiding our future leaders. We have classes for all ages two through high school.  Parents can enjoy Sunday School in the adult class while their children embark on a weekly trip through the Bible.

Across the age groups, we study relevant topics every week.  Each class is age-suited and packed full of activities that reiterate the Bible lesson.

Grace will always take our job of ministering to tomorrow's leaders very seriously!  We welcome and encourage all children to be a part of our Sunday School "family"!

In His Service,


Tara Moran


Sunday School Principal
Worship Service Childcare: 10:30 am – 12:00 pm
GraceCare
Our Nursery is lovingly attended every Sunday morning during our 10:30 am – 12:00 pm worship service. Jesus said in Matthew 19:14, "Let the little children come unto me."  He valued even the youngest among us and so do we at Grace. While you worship, let your children be well attended by our trained, consistent Nursery Caregivers. Each child is assigned a number that is used to notify parents, if needed, on the media screen during service.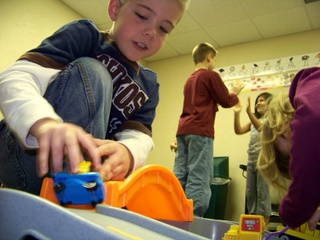 J.A.M (Jesus and Me)
Calling all "jammers"  ages 2 – Kindergarten to come and see that "Jesus loves the little children!" Come jam with us!  We will sing, play, create, and explore as we learn about Jesus and God's Word! A "unique" worship service for young children to enjoy while parents worship in the Sanctuary! JAM's movers and shakers are entertained during the 10:30 am – 12:00 am Worship Service by caring, qualified leaders and fun-loving assistants.
Sunday School Classes: 9:30 am – 10:15 am
ADVENTURERS:  2 years through Pre-K
These are our little explorers!  They learn through stories, songs, play, and hands-on activities. At this age, life is an adventure and we desire for God's Word to be a huge part of that adventure.  The Bible instructs us in Proverbs 22:6,  to "train up a child in the way he should go and when he is old he will not depart from it."  What a beautiful promise!  What better time to begin training a child than at this tender age!  It is our goal to help you as parents create the desire in your young Adventurers to always continue their adventure with Christ!
ROYALTY:  Kindergarten through 2nd graders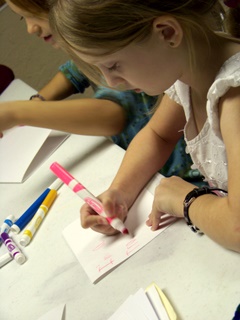 Yes, we have "royalty" here at Grace!  These are our princes and princesses, our lords and ladies, our kings and queens in His Kingdom!  This room, complete with castle decor, is filled each Sunday with young people who are finding out that we all are, as His word says in Psalm 139:14, "fearfully and wonderfully made".  We are children of the King, adopted into His family and that makes us all Royalty!  What a beautiful gift from God we are giving these young future leaders when we encourage them in the truth and knowledge that they are His children!  It is our goal to help you as parents show these princes and princesses just how truly special and important they are in the Kingdom of God!
DISCOVERERS:  Third through Sixth graders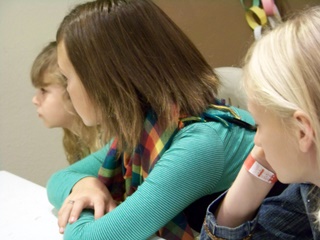 Truth is a beautiful gift meant to be discovered through God's Word!  These elementary students are at an age of discovery!  They are finding out who they are and who they want to become!  We strive to help them discover Jesus Christ personally, to discover that they want Him to be the biggest part of who they are and who they want to become!  The Bible instructs us in Psalm 34:8, to "taste and see that the Lord is good!"  It is our desire for them to discover how to "taste" and always hunger for more of Christ!  Our goal is to help you as parents guide them faithfully in the greatest discovery of their lives, the living Word of God!
EXTREME EXECUTIVES:  Seventh through Twelfth graders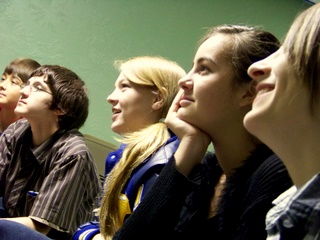 Junior High and High School are some of the greatest years in the life of a young person, but they can also be some of the most trying and difficult years amongst peers who don't always understand them, teachers who don't always care, and a host of people who they feel can't relate to them.  We strive to equip our young people to take charge of their lives by teaching them the Word of God and by leading them towards a personal relationship with Jesus Christ!  We call them Extreme Executives because we want them to feel the power and boldness of Executives!  The Bible teaches us through Philippians 4:13, that we "can do all things through Christ who strengthens" us.  Wow!  What a promise!  We are not limited by our own insecurities and inabilities, but we are empowered through Christ in all things!  It is our desire to help you as parents "empower" your "Executive" by teaching the truth and promises of God's Word and revealing the relevance of His word in their lives today!