Christmas, I Hate to See You Go
I never thought I'd say this, but I was a little sorry to see the Christmas tree come down.  That single act seems to signify that Christmas is officially over.  It's time to get back to work, move on.  But this Christmas was warm and comfortable, and I hate to see it go.
For the last four years or so, my family has opted out of the exchanging of presents.  That's harder than you might think, especially when you have grandkids. We have chosen instead to take a trip, to do something that hopefully creates a memory that might last a lifetime.
We've been skiing a few times in New Mexico, and, indeed, still talk about the awesome snow storms, the dog that we thought was a wolf, the frozen water pipes that forced us to change rooms in the middle of the night, and every other unique event.  And we've loved every memory.
This year we took a trip to Grapevine, a little town which bills itself as "the Christmas Capital of Texas."  It was a good trip. The town has a great light show around a gazebo right in town, and a great little historic cabin and courtyard all decorated in a way that provides hundreds of photo ops.
Then we spent a day at the Gaylord Texan's Ice show.  It, too, gave us some great photo spots, and it is quite a spectacular achievement.  Thank goodness they provide you with parkas to wear in the 12 degree rooms.  The final scene,  lifesize ice sculptures of the nativity scene, is unbelievably beautiful!
The third day we packed up and drove to east Texas to another hotel.  We uncrated a PA system and rehearsed a little "show" of Christmas carols and other songs which we were going to perform at the nursing home where my mom resides.  This would be our first "working" Christmas Eve.  No cozy gathering at home. No sitting around the Christmas tree and enjoying family games.  Just singing to a bunch of people who may or may not know you're there.
My mother has Alzheimers.  Her memory lasts about a minute, and sometimes not that long.  I have to remind her who I am, and in that moment her face brightens and she is excited.  Then, a minute later she will ask me who I am.  So we put on our little show knowing that my mother would not even remember we were there by the time we drove out of the parking lot.
I was a little reluctant to even suggest this kind of Christmas to my family.  I don't know why.  They jumped on the idea so quickly, I was caught without a real plan.   We mentioned it to a few people, and got some ideas.  Judy Kingan made us a pile of cookies, and the staff who had to work on Christmas Eve had wolfed down half of them before we left.  The grandkids made a card for all 102 residents in the home, and handed one to each resident who came to our little show.
My granddaughter plays guitar and sings in our church youth band, but my grandson doesn't put himself behind a microphone.  Yet at the nursing home, he grabbed a mike and stepped out front and sang every song!   My mother sat near us, and I was doubtful that she actually remembered who we were.  But during one song she motioned one of my sons-in-law over to her, and he leaned down and heard her say proudly, "That's my son up there." Amazing that she remembered.
After our little show, everyone had to be wheeled back to their rooms.  It was 6:50, past bedtime for most of them.  Mom stayed and visited with us for another 30 minutes.   Of course, we had to keep introducing ourselves.  But she was in fine form, and funny as ever.  I was glad my grandkids got to see just a glimpse of the woman she used to be.
"How long have you had that cough?" I asked after a spasm of coughing hit her.   "Well," she grinned, "at least for two or three minutes."   Well said from a woman who apparently knows she has a memory problem.
It's funny how the memory works in someone who has lost it.  She still remembers clearly that she has four children, and can remember all our names.  Yet doesn't realize that the one sitting beside her is one of those kids.  And yet, when she speaks of them, she says, "I had four children, you know.  And they loved me.  They were always so good to me."   I am grateful that her memory recalls us that way.
She said to my daughter, "There are days that I just want to quit.  I don't know why I'm still here.  And then, someone will come by and visit, or just say the right thing to me, and I want to live again. I want to go on.  You know, I just think God puts some people here just for that, just to keep us going."   Maybe that's why she's still here.  She gives me inspiration.
Late Christmas Eve we're trying to find anything open in a small Texas town, and we find a not-so-clean fried chicken joint.  And a convenience store for those who didn't want fried chicken.  And we carried our treasure back to our tiny hotel room and feasted and played games and talked and cried.  And expressed our thanks to each other and to God.
I don't even have words to express my personal thanks and love to my kids and grandkids for being the troupers that they are, and for genuinely giving up Christmas as usual.  We found Christmas extraordinaire!  And I hate to see it go.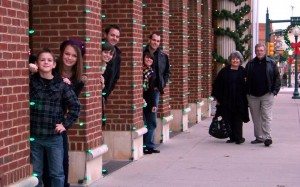 http://www.graceistheplace.com/wp-content/uploads/2017/01/GCFC-Header-Logo.png
0
0
Danny Carpenter
http://www.graceistheplace.com/wp-content/uploads/2017/01/GCFC-Header-Logo.png
Danny Carpenter
2010-12-29 23:32:44
2010-12-29 23:47:21
Christmas, I Hate to See You Go